An open house has been planned for the newly named 'The Gathering Place Café' at the Crothersville Senior Center, 114 E. Main Street, for next Tuesday, Feb. 21, from 4-6 p.m.
Wellness fellowship, exercise, nutrition for older adults of the Greater Crothersville area are featured.
The Café is open Monday through Friday from 9 a.m. to 1 p.m. Lunch is served at 11:30 a.m.
Meals are free for area residents age 60 & over. And just $5 for persons under age 60.
A variety of information on senior issues from Thrive Alliance partners will be available during the open house.
Kelly Sue Hensley is Wellness and Nutrition Director for the meal site at the Center. The center can be reached at 812-793-2523.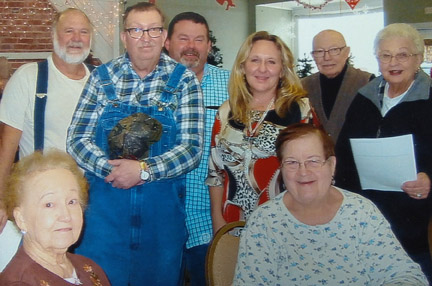 Leadership for the Crothersville Senior Citizens was installed at the newly re-named 'The Gathering Place Café' recently.
Seated:  Joyce Harmon, board member and Brenda Holzworth, secretary.
Standing: Doug Spicer & Paul Hall board members; Paul Hensley, vice president; Lynn Hoskins, president; James Dailey, treasurer; and Doris Kovener, reporter and local Advisory Board member to Thrive Alliance.
~submitted photo