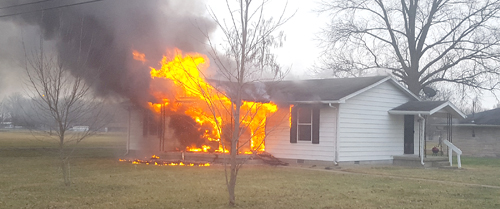 This is what firefighters saw when they arrived.   –photo courtesy of Richard Hanlin
A Crothersville home was destroyed by fire last Tuesday morning, Jan. 26.
Firefighters were called to the home of Brandon Brewer, 613 E. Bard Street just before 9 a.m. When they arrived they found the home fully engulfed in flames.
Zach Richie, who was staying with the Brewers reported he was awakened by a smoke alarm in the home. He reportedly crawled through the smoke filled home and exited through a rear kitchen door.
He then went to a neighbor's to call 911.
The home, owned by Marlin Adams and Andrew Nehrt, was considered a total loss.
The cause of the fire is believed to be electrical, according to Crothersville Police Chief Richard Hanlin who said the home had baseboard heating, and a space heater was being used.
Crothersville-Vernon Township Volunteer Fire Department responded to the fire and was assisted by firefighters from Austin, Jackson-Washington and Grassy Fork township volunteer fire departments.