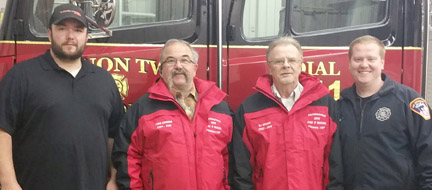 The Crothersville-Vernon Township Volunteer Fire Department held their annual holiday dinner recently and used the time to honor two retiring volunteer firefighters.
Lynn Howard and B.J. McLain were honored for their years of service.
Howard retired last year after volunteering for 20 years with the department; McLain served as a firefighter for 13 years.
From left are department vice president Corey Strong, Howard, McLain, and Fire Chief Ben Spencer.
~photo courtesy of Charles Densford