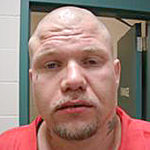 A Scott County man was arrested on numerous drug and traffic charges by Indiana State Police on Dec. 23 after fleeing from officers in a vehicle then crashing on the west side of Seymour, where he was taken into custody.
Otha T. Bryant, 32, of Austin was arrested on a number of charges.
The incident began when Trooper Jared Black and Probationary Trooper Tia Deaton attempted to stop a Buick Lesabre on US 50 near Walnut Street in Seymour for a traffic violation.
Bryant drove southbound on Walnut Street before turning westbound on County Road 200 North. Bryant then turned back northbound on County Road 600 East back towards US 50. As Bryant's vehicle approached the intersection of CR 600 East and US 50, Bryant lost control of the vehicle and crashed onto the railroad tracks at Hangman's Crossing.
After crashing, Bryant attempted to flee the vehicle on foot but was captured by police. A search of Bryant's vehicle uncovered over 10 grams of methamphetamine and other items associated with the dealing of methamphetamine.
Bryant was incarcerated in Jackson County Jail facing charges of resisting law enforcement in a vehicle, resisting law enforcement on foot, dealing methamphetamine, possession of methamphetamine, operating while intoxicated, and driving while suspended.
Troopers Black and Deaton were assisted by numerous other troopers as well as officers from the Jackson County Sheriff's Department and Seymour Police Department.