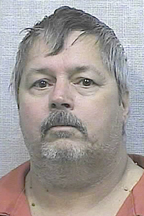 A Crothersville man, who had been out on bond for selling drugs, was arrested last week on additional drug dealing charges.
Roger D. McIntosh, 55, of 422 S. Armstrong Street in Crothersville was arrested on a Jackson Circuit Court warrant by Kentucky law enforcement in Louisville and later booked into Jackson County Jail on Thursday, May 21, according to Jackson County Jail Commander Charles S. Murphy.
McIntosh is charged with five counts of dealing drugs, theft, and illegal possession of ginseng in Jackson Circuit Court as a result of a lengthy investigation beginning in August 2014 by Indiana Conservation Officers.
At the time, McIntosh was out of jail on bond from his arrest in March 2014 on an earlier 5-count charge of dealing drugs.
Last summer, Indiana Conservation Office Brad Wehner, Phil Nale, Matt Pearcy, and Trent Stinson were investigating the illegal harvest of ginseng from Brown County and Clifty Falls State Parks when their investigation led them to the Roger McIntosh residence where the local man allegedly was purchasing ginseng out of season. Authorities said McIntosh does not have a license to deal in ginseng.
Conservation officers obtained a search warrant for the McIntosh residence and on Aug, 23, with the assistance of Jackson County Sheriff's deputies, searched the McIntosh residence finding dried and fresh ginseng root as well as plant parts & residue in the house.
During the search authorities found a large safe which they claimed had been used to house illegal drugs found during McIntosh's March 2014 arrest, according to the case narrative. After eventually being able to open the safe, authorities found 10 prescription bottles and bundled packets of hydrocodone, oxymorphine, alprazolan, oxycontin, and suboxone not in prescription containers labeled as prescribed to McIntosh.
Jackson Circuit Court Judge Rick Poynter set Mcintosh's bond at $100,000. A pre-trial conference was set for July 10.