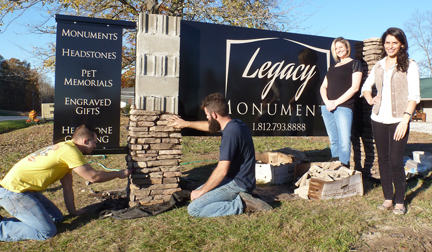 Completing their family business sign on US 31 north of Crothersville are Steven Scifres and Casey Howard who work under the watchful eyes of spouses, Amanda Howard and Courtnee´Scifres.
Legacy Monuments is open for business along with The Old Home Place.
A home-grown family business has begun just north of Crothersville. Owned and operated by a local brother and sister and their spouses, Legacy Monuments creates more than just memorial stones for the departed.
While quality monuments and headstones are the most readily thought of product, the local business also provides pet memorials and caskets, engraved gifts and special keepsakes.
Involved in the family business are assistant production manager Casey Howard and his wife, account manager, Amanda as well as Casey's sister Courtneé Scifres, who is responsible for sales and graphic arts design, and her husband, assistant production manager Steven Scifres.
It was around a family dinner table that the young entrepreneurs decided to venture into the monument and engraving business.
Courtneé has a degree is graphic arts and experience designing headstones with another area monument dealer, Amanda has the accounting skills, and Steven & Casey provide the production skills.
In addition to sandblasting and laser services, Legacy is the only Southern Indiana retailer to offer 'impact etching'.
"Impact etching is a revolutionary yet simple stone engraving technology designed specially for monument builders and one of the most practical solutions on the market," said Courtneé.
This machine is used for headstone etching, pet memorials, and memorial plaques.
"Impact etching strikes the stone with a diamond tip creating a deep, bright etching on a variety of surfaces such as granite, basalt, marble and glass," said Courtneé. " It's ideal for producing a design with personal photos or detailed scenes."
To introduce themselves to the community Legacy Monuments is holding a grand opening giveaway worth over $2,800, Area residents are invited to visit their shop to register. The winner will be announced Nov. 25.
The local business is open 8:30 a.m.. to 4:30 p.m. Monday through Friday and 8:30 a.m. to 12:30 p.m. on Saturday. They can be reached at 812-793-8888 or visit their website at www.leagacymonuments.biz.