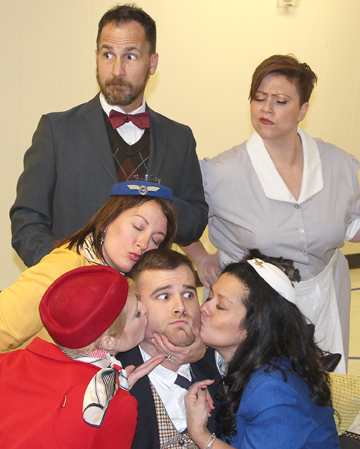 JCCT's dinner theatre production Boeing Boeing cast members are Kody Riddle, (center) being romanced by three stewardesses played by Stacey Williams (in yellow), Afton Shepard (in red), and Michelle Carter (in blue). Standing: Matt Nieman and Katrina Hardwick.
Jackson County Community Theatre will present its annual dinner theatre at The Pines Evergreen Room February 12, 13, 19, and 20, plus a special Valentine's Day dinner matinee, Sunday, February 14. This year's show 'Boeing Boeing', the 2008 Tony Award-winning comedy by Marc Camoletti.
The play is set in the 1960s, and Bernard, an American architect living in Paris, played by Kody Riddle, is engaged to three beautiful airline hostesses, Italian, German, and American. He is able to keep, "one up, one down, and one pending," because of their predictable work schedules. But Bernard's perfect life gets bumpy when his friend Robert (Matt Nieman) comes to stay, and a new and speedier Boeing jet throws off all of his careful planning.
Soon all three stewardesses (played by Afton Shepard, Michelle Carter, and Stacey Williams) are in town simultaneously, timid Robert is forgetting which lies to tell to whom, and catastrophe looms. Berthe, Bernard's French housekeeper, (Katrina Hardwick) adds to the comedy.
Boeing-Boeing is a classic farce running for a total of seven years on the New York Stage. In 1965 the American film version premiered, starring Tony Curtis and Jerry Lewis.
The show is directed by John Hiester. Other members of the production crew are producer Katherine Stahl; assistant director Kathy Nelson; set builders Joe Bradley, Joe Reynolds, Joel McGill, and Mike Nelson; backstage crew Erin Nelson and Carlie Lucas; technical crew Stone Riddle, Aaron Wright, and Stevi Begley; costumer, Julie Bradley.
Tickets for the dinner shows are available by reservation only at 812-358-JCCT. All tickets are $30. Dinner begins at 6 p.m.
A non-dinner, show-only performance will be held Thursday, February 18, at 7:30 p.m., also at the Evergreen Room. Tickets for this non-dinner production are $12, and are sold only at the door. Seating is general admission.