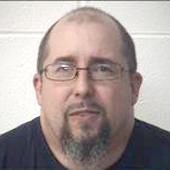 A trooper with the Indiana State Police was attempting to serve an arrest warrant at 6191 East State Road 356 in Lexington last Thursday, July 23. The person being sought was not at the home but the trooper with assistance from the Scott County Sheriff's Office located an indoor marijuana grow operation in a garage next to the home, according to ISP Sgt. Jerry Goodin.
"The garage contained grow lights and growing marijuana plants. The grow operation was estimated to be producing over $3,000 per month in marijuana proceeds," Goodin said. "We don't know how long the grow operation has been functioning."
David Flaminio, 42, was arrested and incarcerated at the Scott County Jail on several marijuana related charges.
This investigation is continuing, Goodin reported.