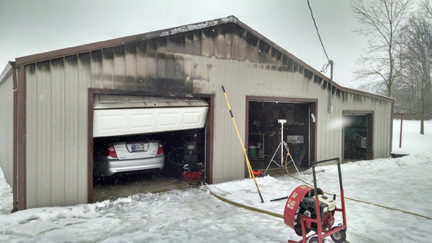 A detached garage shows damage from a fire at the Brenda Farmer residence Saturday morning. Firefighters were on the scene for 2 ½ hours.
~photo by Ben Spencer
The Crothersville-Vernon Township Volunteer Fire Department was busy last week with two major fires in their jurisdiction.
Firefighters were called to the Brenda Farmer residence at 7477 S 975 E southwest of Crothersville around 10:30 a.m. on Saturday, Feb. 21, with the report of a garage fire.
According to local fire chief Ben Spencer when the department arrived "smoke was coming out the garage door and there was heavy fire inside", he said.
Firefighters got the fire under control in about 15 minutes, Spencer said.
Damage was estimated around $40,000 to the detached garage and contents. "There was a tractor, Artic Cat Utility Vehicle, and an automobile all damaged in the blaze which is believed to have started in the block heater of the tractor," Spencer said.
Firefighters were delayed in their response time due to heavy snow and a train passing through town at the time of the fire, the chief said.
An early Wednesday morning mobile home fire sent a Crothersville man to the hospital with burns.
Tim Combs of 506 E. Oak Street was taken by EMS to the University of Louisville Hospital burn unit for treatment, according to Spencer.
The fire chief said he was able to talk with the victim and believes his injuries are not life threatening. "He was alert and talking with rescue workers at the scene," Spencer said.
Two other people in a mobile home were able to escape without injury. A smoke detector was credited with alerting the residents to the fire allowing them to escape. Firefighters used thermal imaging equipment to find a cat and get it out safely.
The fire was reported at 7:34 a.m. on Wednesday, Feb. 18.
The first firefighters responding to the scene of the fire found heavy smoke streaming out of the east end of the mobile home, Spencer said.
Firefighters were able to contain the fire to the bathroom.
The fire was contained in about 20 minutes. Damage was estimated at $15,000.
The extreme cold temperatures were an issue for firefighters, Spencer said, and some water froze up in hoses after the fire was put out.
Spence said on Saturday that Combs suffered 1st & 2nd degree burns on his back. "He was treated at UofL Hospital and was released Friday morning," Spencer said.