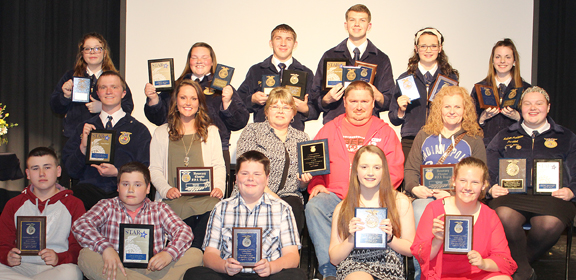 The Crothersville FFA held their annual awards and recognition banquet Thursday evening. The following members and local residents were recognized for achievement during the past year.
Front row: Carson Farmer, 8th grade points; Deric Hoevener, STAR Discovery; Jonathan Eldridge, 7th grade points winner; Rebekah Cook, Most Improved Jr. High member; Kaylee Caudill, 6th grade points winner.
Second row: Derrick Maxie, STAR Chapter Farmer; Denise Maxie; Honorary Chapter member; Connie Hoskins and Chris Hoskins, VIP Award; Sara Isenhower, Honorary Chapter member; Madison Isenhower, STAR Placement; Most Improved High School member and 12th grade winner.
Back row: Jada McIntosh, Leadership Award; Brittany Ross, STAR Greenhand; Noah Hoskins, Up & Coming Award; Deven Lemen, 11th grade points winner and STAR Agribusiness; Kalynda Hoevener, 10th grade points winner; Eden Binkley, 9th grade points winner.
~photo courtesy of Linda Begley