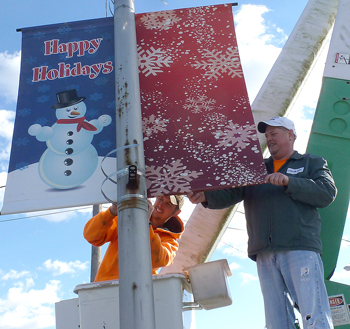 Crothersville Town workers Chris Mains (right) and Mason Boicourt took advantage of the warm sunny weather last week to put up the town Christmas banners & decorations along US 31 for the holiday season
The Crothersville Historical and Cultural Arts Association and the Crothersville Lions Club will host the annual Christmas in the 'Ville holiday kickoff on Sunday, December 6, from 4-6 p.m.
The event will begin with Cookies and Carols at Hamacher Hall. Cookies and punch will be served and after carols are sung, Santa Claus will come to read The Night Before Christmas and to speak with the children before the town Christmas tree is officially lit.