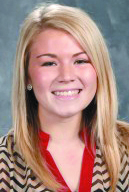 Crothersville's Mackenzie Farmer was recently named the Fort Vallonia Chapter Daughters of the American Revolution Good Citizen of Jackson County.
Members of Fort Vallonia Chapter, National Society of the Daughters of the American Revolution, gathered on March 12 at the Seymour Masonic Lodge for dinner and the presentation of the awards. Each of the five participating Jackson County high schools selected the Good Citizen for their school.
Judges chose Farmer, a senior at CHS and daughter of Ed & Kristie Farmer, as the county winner.
Her entry was forwarded to the Indiana State DAR for the state competition.
Other Good citizen candidates included Amanda Stuckwisch, Brownstown Central High School; Kiana Thompson, Medora High School; Daniel Hauersperger, Seymour High School; and Seth Patterson, Trinity Lutheran High School.
The chapter honored all five of the candidates for being selected to represent their schools. One of the requirements for the awards was for each student to write an essay on the topic "Our American Heritage and Our Responsibility for Preserving It: What Does Our Past Tell Up About Our Future?"
All five students read their essays to the gathering.  The other requirements were a review of their qualities of good character, emphasizing Dependability, Service, Leadership, and Patriotism in their schools and communities, as well as their Scholarship.
The DAR Good Citizen program is intended to encourage and reward the qualities of good citizenship.  It is open to all senior class students enrolled in accredited public or private secondary schools that are in good standing with their State Boards of Education.
Each county entrant receives a pin, a certificate, and a wallet card indicating that each is the DAR Good Citizen from their school, and a small award from Ft. Vallonia chapter.