Troy Burns is built like a fireplug: stout & compact, now tipping the scales at just over 300 pounds. And very little of it is fat. He has been lifting weights for 15 years for fitness and trains at Matside Sports in Seymour.
On Sept. 24, the 31-year-old Crothersville resident won the Illinois Strongest Man Competition for his weight class and took fifth place overall at the competition in Manteno, IL.
Strong Man competitions are more than just lifting weights. They are lifting extremely heavy objects, not just barbells. And some aspects of the competition are timed: lifting a variety of objects quickly or for long periods.
There were four events to the three hour-long competition. First, was the Overhead Press Medley that consisted of lifting a 205 lb. bar, a 220 lb. axle, a 245 lb. 8″ Log and a 275 lb. 12″ Log. And that all had to be lifted from ground to overhead in less than sixty seconds.
"I was one of only two competitors to complete every implement," Burns said.
The second event was the Deadlift. Each athlete was given three attempts to lift their maximum weight. Burns lifted 545 lbs, 585 lbs and 635 lbs.
"My final Deadlift of 635 lbs broke the state record," Burns said.
The third event was the Farmer's Hold where competitors pick up 275 lb. in each hand and hold it for as long as they can. Burns lift lasted for 15 seconds. "This was my worst event and I need to train more for it," said Burns. "The winner held the weights for 65 seconds."
The final event was the Loading Medley. The athletes had to load four implements from the ground over a 48-inch wall. The weights were a 220 lbs keg and 225 lb, 260 lb and 300 lb. stones.
"I loaded the first three implements, but was unable to man-handle the 300 lb. stone," said Burns. "After three hours of lifting I was too exhausted."
Burns and his wife, Trisha, are the parents of a 6-year old son and a 3-year old daughter. He is the son of Bill & Peggy Burns of Crothersville.
The local strongman said he will be training to improve his time in the Farmer's Hold for his next competition in March 2017.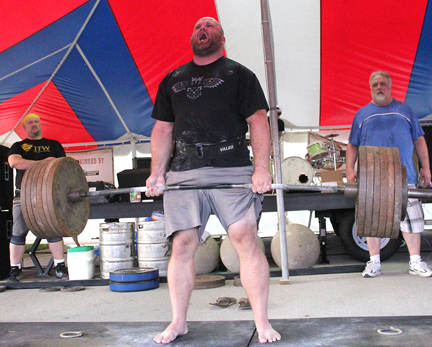 Crothersville weightlifter Troy Burns deadlifts 635 pounds to break the state record and win the Illinois Strong Man Competition last month.