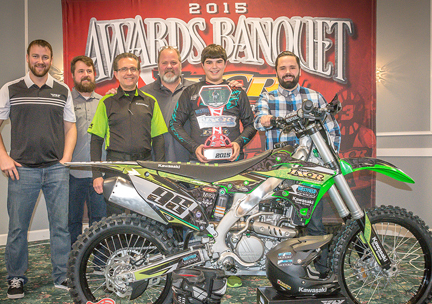 Racing officials and sponsors helped to make Trent Baughman championship trophy night a special occasion when they awarded him a new racing motorcycle and competition gear.
Left to right are Austin Woodrum of Fly Racing, Brian Bennett of Unabiker, Rick Crum of Kawasaki USA, Tim Bowman of IXCR, Trent Baughman of Crothersville, Jesse Johnson of Westfield Powersports.
~photo by Stacy Mundy Photography
Crothersville High School freshman Trenton Baughman has enjoyed riding motorcycles since he was 4. In 2015 he competed in the IXCR (Indiana Cross Country Racing), where cyclists compete in natural terrain of woods, fields and dessert. In his first year, the 15-year-old from Crothersville won the championship in the C Lite Class.
Earlier in January during the IXCR awards banquet in Plainfield, the teen received a championship trophy and a surprise: a 2016 Kawasaki KX250, over $1,000 in racing team gear, and all his race fees will be paid for the approaching season.
The youth goes from being an independent competitor to being a sponsored member of Kawasaki Team Green out of Westfield, IN."
"2015 was his first full season of racing," said his mother, Crystal Baughman. "He was the youngest in his class of about 30 competitors against him. He had no sponsors and now looking forward to the 2016 race season as a part of a sponsored team. It is a dream come true for him."
His mother explained that IXCR cross country races are held on natural terrain through either woods or desert, and may include motocross sections. Courses vary in length. Races generally last no less than two hours, and rules vary from track to track. Obstacles include hills, rock sections, logs, ruts, sand and mud.
"IXCR is a very family oriented race series with great owners, fans, racers," said Crystal Baughman. "Everyone is out for everyone. They have fantastic sponsors that give back to racers in such a huge way.
The local teen said he rides every chance he gets and it doesn't matter what the weather is outside.
As for a future: "I'd like to be a professional rider," Trenton said.
The local youth has a short time to prepare for the coming dirt bike racing season. The first races are Feb. 27-28.