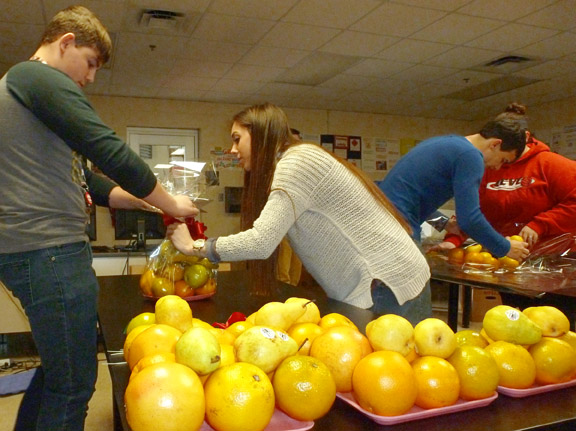 Brendan Thomas and Kashmir Kelshaw (left) and Matt Wilburn and Brittany Ross (right) work on wrapping two of the 150 holiday fruit baskets last week which were delivered to elderly and shut-ins on Saturday.
For the 27th time the Crothersville FFA this past Saturday loaded up 7.18 tons of non-perishable food and shared it with the needy of the Crothersville community. With the help of the Crothersville-Vernon Twp. Fire Department and many local volunteers 150 fruit baskets were delivered to families letting them know that they were being thought of during this holiday season.
As the last bell rang at school on Friday for Christmas break, FFA members began sorting food and arranging fruit baskets to be delivered on Saturday, Dec. 19 to 96 families along with toys for the children.
"The smiles and the hugs you get from some folks, tugs at your heart strings", stated Madison Isenhower Crothersville FFA Chapter president. "This is what it's about, giving back to our community."
Many of the young FFA members experienced firsthand the joy of giving and excitedly shared their experience and observations with other volunteers as they came back ready to load up to deliver to another family.
Chapter Treasurer Derrick Maxie said, he had been attending the food & toy distribution since he was a baby (his mother is the FFA advisor) and said it was sad to think this was his last year as a member of the FFA. "But next year I will be proud to continue to lend a helping hand as a volunteer member of the community," he said.
"Even though the monetary donations were down this year, the joy of giving will continue with the Crothersville FFA as long as there is a need within the community", said chapter advisor Linda Begley.