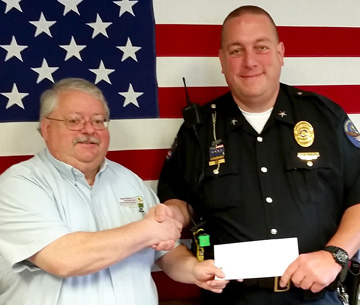 Crothersville Police Chief Richard Hanlin accepts a $500 grant check from Dan Davis, President & CEO of the Community Foundation of Jackson County. The President's Grant was awarded to help the police department buy eight body cameras and accessories.
A President's Grant from the Community Foundation of Jackson County will help Crothersville Police Department buy body cameras for its officers.
"We appreciate the support of the Community Foundation and others in our community who are responding to this need," Police Chief Richard Hanlin said.
Recently, the First Baptist Church of Crothersville allocated collections totaling $1,029 toward the project's goal of raising $4,000, Hanlin said.
"Our department greatly appreciates the help and support of those who donated to the special collections," he added.
Donations to the body camera project may also be made online through BodyCameraDonations.com, a website that Officer J.L. McElfresh found to help with the department's efforts
Body cameras can help gather evidence while conducting traffic stops, interviews and search warrants. They can also help protect communities from false allegations against their officers.
"They're valuable tools that police officers need to have these days to protect themselves along with citizens," Hanlin said. Currently, Brownstown Police Department, Jackson County Sheriff's Department and Seymour Police Department already make use of body cameras.
The $500 grant from the Community Foundation will be applied toward the purchase of eight body cameras for the police department, which includes four full-time officers and two reserve officers. Two cameras will be held in reserve.
The department needs $4,000 to buy the cameras and accessories, which include docking stations.
"We're happy to help support this community effort to improve the equipment used by Crothersville police officers," said Dan Davis, President & CEO of the Community Foundation. "The Foundation is excited to be a part of this project and was happy to make a grant toward its becoming a reality."
President's Grants funded through the Community Foundation of Jackson County are financed through earnings on what are called unrestricted endowments. The funds generate grant dollars to respond to programming and emerging needs of nonprofit organizations and communities across Jackson County, Davis said.