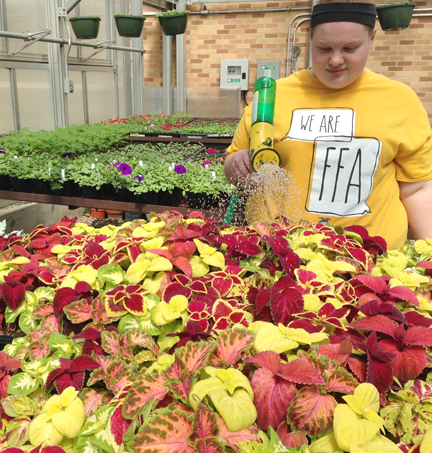 CHS FFA member and horticulture student Madison Isenhower waters and fertilizes coleus that will be among the plants available for sale when the school greenhouse opens of Saturday, May 7, during the community yard sales.
The Crothersville High School Horticulture class will open the school greenhouse for public sales of flower and vegetable plants on Saturday, May 7, beginning at 9 a.m.
CHS Horticulture students have been busy planting and nurturing a variety of plants for local gardeners to enjoy, said horticulture teacher Linda Begley. Flower varieties include: wave petunias, zinnias, marigolds, petunias, coleus, snapdragons, salvia, impatiens, begonias, coleus, dusty miller, alyssum, and sunflowers.
Vegetables plants include: several varieties of tomato and peppers, summer squash, kohlrabi, eggplant, cucumber, watermelon, pumpkin, broccoli, cabbage, and cauliflower.
And to spice up your home kitchen cooking there is parsley, dill, chives, cilantro, and basil.
Begley said that two Exclusive Hybrid Specialty 9 packs of plants are available.
Sweet and Spicy pack includes one each of San Marino tomato, Celebration tomato, Emerald tomato, Crimson Sweet watermelon, California Wonder pepper, cantaloupe, Sweet Banana pepper, Habanera pepper, and Jalapeno pepper.
The Exotic pack includes Black Krim tomato, Hybrid Golden Rave tomato, Emerald Evergreen tomato, Large Dutch Yellow cucumber, Casper eggplant, Dragon Egg cucumber, Thai Super Chili Hot pepper, Albino Bullnose pepper, and Lilac bell pepper.
"As a bonus, the first 50 customers when we open on May 7 will receive a garden starter vegetable pack (one per family)," said Begley. "This pack is courtesy of the Crothersville FFA Chapter.  Members of the FFA chapter are wanting to promote food security in our community."
"We hope that local gardener's will take these plants home and nurture them until they produce and with any extra, they can share with their family, friends, or neighbors", said Crothersville FFA Senior member Madison Isenhower.
Proceeds from the plant sales go towards greenhouse supplies for next year.
Hours after Saturday will be during the regular school hours, Monday through Friday from 8 a.m. to 3 p.m.