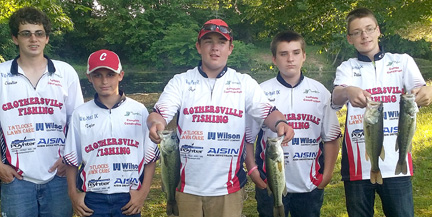 Shown above are club members Chandler Niehause, Taylor Tatlock, Joseph Tatlock, David Ross, and Dillon Maschino. Other members of the club include. Jonathon Wiesman, Andrew Johnson, Jonathon Eldridge, and James Amos.
Members of the Crothersville High School Fishing Club, Joseph Tatlock and Dillon Maschino, participated in the High School World Finals in Florence Alabama at McFarland Park on Pickwick Lake June 29,30, July 1st. They caught a total of 5 bass, one weighing 2 lbs 9 oz, and 4 with a total weight of 6 lbs 15 oz ranking them 69th out of 184 teams from 22 different states.
The Crothersville club is a part of the SAF student angler federation. The boys said the experience and memories will last a lifetime.
Tatlock is the son of Nick Tatlock, and Cassandra Tatlock; Maschino is the son of Angela Schmelzle, and Ed Maschino II.
The club thanks their sponsors for the year: 5-C Auto Parts, Walmart Distribution Center, The Peoples Bank, Complete Construction, Tatlock Lawn Care, Wilson's Equipment Company, Bob Poynter GM Seymour, Aisin Drivetrain, Inc.