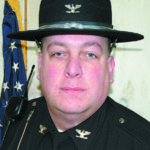 Crothersville Chief of Police Richard Hanlin has resigned to take a law enforcement job with the Spencer Police Department in Owen County.
Crothersville Town Council president Lenvel 'Butch' Robinson read Hanlin's resignation at the close of last week's Crothersville Town Council meeting.
Hanlin's last day on the job as Crothersville 'Top Cop' will be next Thursday, Sept. 22.
His sudden departure has left the local town council scrambling to find an experienced leader for the local department. Robinson called for an executive session to possibly interview candidates last night (Tuesday, Sept. 13).
Hanlin was hired as a patrol officer in May 2009 and was named Chief of Police in January 2012.
Spencer, the county seat of Owen County, is a community of about 2,300 with nine full time police officers.